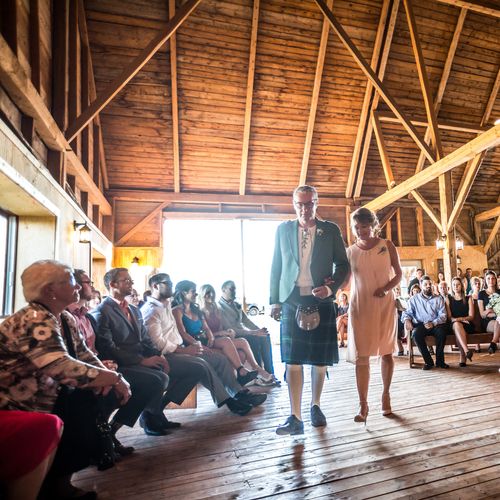 Side Barn & Kitchen
Our multi-purpose area
With heritage pews and exposed beams we have a solution nearby should your outdoor ceremony have weather woes. Nearby outside, our heritage fence leads to a post and beam arch for outdoor services but many opt to set up here on their wonderful day. Large barn doors open to the yard creating the perfect mix of country style and heirloom effect. Our kitchen area is adjacent which means this area can also transform to a buffet service area, bar or speak easy gathering section.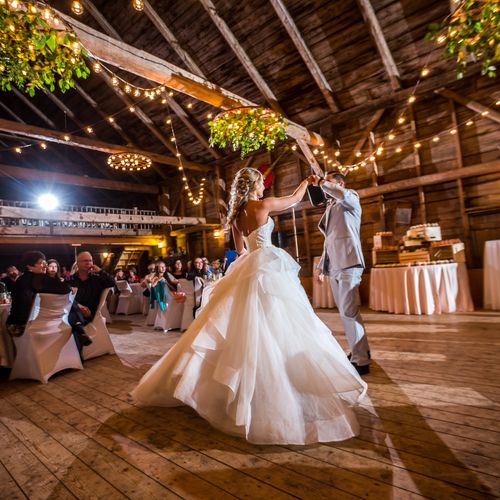 Dance Hall & Stage
The main barn and hall
So many authentic features remain in the 165 year old space that charming is the word of the day for many happy couples. The warmth of the double set of double barn doors in the Main Barn Hall, allow guests to dance from the barn boards to the porch and out into the night. Open space on the dance floor, but still intimate, The Sackville Music Barn features original post and beam architecture... they really don't make 'em like they used to. The stage doubles as a riser for head tables and the balcony creates a perfect vantage for photographers or videographers. Above all, the warmth of the wood and hundreds of years of tradition still echo the sounds of firm foundations rooted in love and family.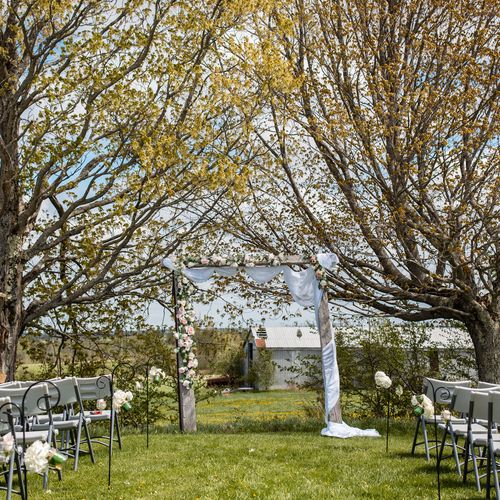 The Lawn
The green green grass of home
We have a beautiful lawn and acreage surrounding the barn as well as an arbour which is easy to decorate. Set up outside and enjoy the close proximity to the The Main Barn Hall which features two sets of full floor to ceiling heritage barn doors which swing open and can be latched to the barn so they don't blow in our Tantramar winds. In addition there is a traditional door and ramp at the back of the Main Barn Hall. There is another set of double barn doors on the Side Barn and Kitchen section which also latch to the barn and there is a traditional door there as well. When all the doors are open your guests can move from inside or outside easily along the porch or through the hallway to each section. Our lawn is another venue next to our venue!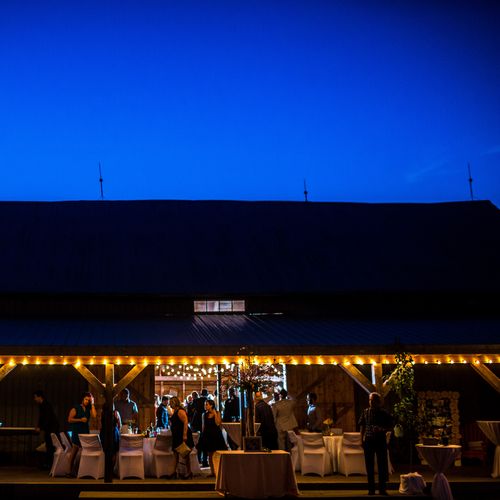 Porch & Patio
Features of farm chic
Our barn features vintage lighting inside and out which will cast a warm glow over everyone. Our spacious porch means that even when it is raining, people can still have a chat or catch up from under the roof.  With easy access to the Main Barn Hall, set up and load out is effortless. It also means those with mobility issues have a very short walk before they are in the heart of it all.